Aesthetics and Critique III. Thinking in Pandemic Time
Université de Fribourg (Online)
27.05.2021 bis 28.05.2021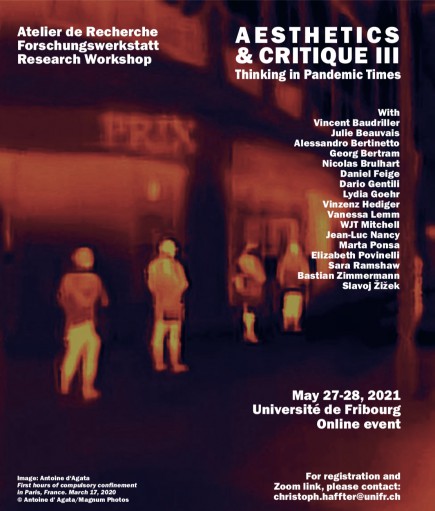 We are pleased to announce the third edition of the Fribourg Workshop in Aesthetics & Critique that will take place on 27-28th May 2021. The title of the workshop is "Thinking in Pandemic Times", and we have the pleasure to welcome Jean-Luc Nancy and William John Thomas Mitchell as our keynote speakers.
Moreover, there will be panel discussions with Vincent Baudriller, Julie Beauvais, Alessandro Bertinetto, Georg Bertram, Nicolas Brulhart, Daniel Feige, Dario Gentili, Lydia Goehr, Vinzenz Hediger, Vanessa Lemm, Marta Ponsa, Elizabeth Povinelli, Sara Ramshaw, Bastian Zimmermann, Slavoj Žižek.
Detailed program of the workshop:
Thursday 27 mai 2021
14h00 – Ouverture (Emmanuel Alloa)
14h30-16h30 – Contagion as a Metaphor
DARIO GENTILI (Università Roma Tre): From contagion to contagion, from crisis to crisis
VANESSA LEMM (Deakin U, Melbourne): Contagion and Community of Life
ELIZABETH POVINELLI (Columbia U, NYC): Cumulative and Coming Catastrophes. Feeling & Figuring the Difference
SLAVOJ ZIZEK (Birkbeck College London): Non-Thinking in Pandemic Times
17h00-18h30 – WJT MITCHELL (Chicago): Present Tense 2020. An Iconology of Time
Friday 28 mai 2021
9h30-12h00 – Is there Art Behind the Screen ? Virtualized Aesthetic. Practices in Pandemic Times.
VINCENT BAUDRILLER (Théâtre Vidy)
MARTA PONSA (Jeu de Paume, Paris)
NICOLAS BRULHART (Fri Art, Fribourg)
VINZENZ HEDIGER (Frankfurt/M)
BASTIAN ZIMMERMANN (Munich/Berlin)
JULIE BEAUVAIS (SONIC MATTER Zürich)
14h00-15h30 – JEAN-LUC NANCY (Strasbourg): Être soufflé
15h45-18h – In Uncertain Times. On Improvisational Practices.
DANIEL FEIGE (ABK Stuttgart): The Aesthetic Temporality of Musical Improvisation
LYDIA GOEHR (Columbia U, NYC): IMPUT — UNTITLED
ALESSANDRO BERTINETTO (U Torino): Aesthetics of Improvisation as Artistic Grammar of Contingency
GEORG BERTRAM (FU Berlin): Improvisation as Paradigm of Art?
SARA RAMSHAW (U Victoria, Canada): Justice as Improvisation.
You're cordially invited to join this event online. For registration and Zoom link, please contact: christoph.haffter@nullunifr.ch
With best regards,
Emmanuel Alloa, Christoph Haffter and Arianna Sforzini